Line Mountain Middle School
The Line Mountain Middle School Envirothon teams placed 7th and 10th in their recent competition at the Montour Preserve.  Click here for more details.
Hoops For Hearts
On April 1st, 2016, the Line Mountain Middle School hosted the annual Hoops for Heart event.  Through the American Heart Association and the will of the student body, we managed to raise almost $4,000 to go towards individuals who suffer from heart disease and heart defects.  Click Here for more details on the event.
Read Across America
On March 2nd, the Line Mountain Middle school had several activities to celebrate Read Across America Day. There was an assembly with a guest speaker, Lauren Hackenberg. There was also a book exchange and a Read-A-Thon. All of the day was planned by the Middle School Student Council. We would like to thank everyone involved! Your time, support and generosity were greatly appreciated.
PA Friends Of Ag Foundation

The Line Mountain Middle School 8th grade science students recently participated in the mobile agricultural lab sponsored by PA Friends of Ag Foundation . Students completed a water pollution activity in which they had to investigate the source of water pollution in a small community. Students analyzed well water samples from around the town to determine the location of the pollution.  Science teacher Jason Weller organized the event.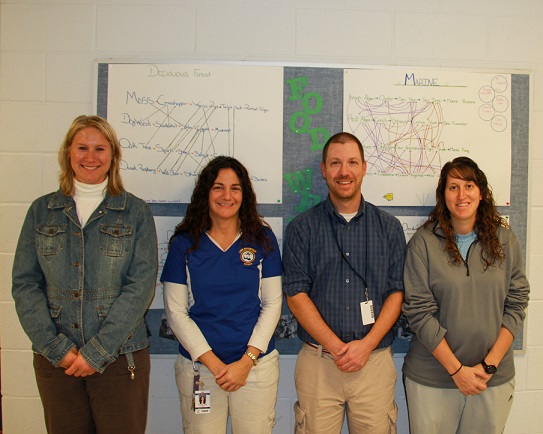 Congratulations to the Line Mountain Middle School Science Department for scoring the highest marks in last year's PSSA testing. The Middle School obtained the highest percentage of Proficient/Distinguished within the Central Susquehanna Intermediate Unit region for the 2014-2015 school year.  Pictured are faculty members Holly Scheib, Theresa York, Jason Weller, and Kam Traugh.
Veterans Day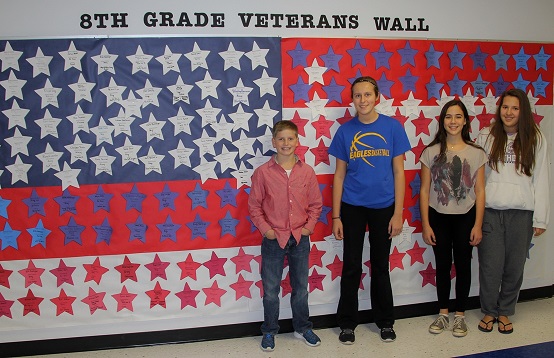 In honor of Veterans Day, the 8th grade students at Line Mountain Middle School recognized family and friends who served our country in the US Armed Forces by placing over 200 stars representing our Vets on the 8th grade Veterans Wall.
Line Mountain Middle School
187 Line Mountain Road · Herndon, PA  17830
(570) 758-2011 · Fax: (570) 758-1514