Line Mountain High School
| | | | |
| --- | --- | --- | --- |
| | 2016 Spring FFA Competition | | |
| Sam Ferster | Small Gas Engine 1st Place | Kylee Lerch | Wildlife |
| Jonathan Lenker | Small gas Engine 2nd Place | Bre Minnier | Wildlife |
| Sam Ferster | Forestry 3rd Place | Dalton Mulberger | Wildlife |
| Victoria Duffy | 3rd Place Conservation Public Speaking | Chris Deppen | Wildlife |
| Makenzie Erdman | SUN Area Degree Recipient | Ashley Lambert | Wildlife |
| Colton Schaible | SUN Area Degree Recipient | Colton Schaible | Ag Mech |
| Samuel Ferster | SUN Area Degree Recipient | Tyler Brosoius | Ag Mech |
| Kayla Brosious | SUN Area Degree Recipient | | |
| | Public Speaking CDE's | | |
| Sam Ferster | Extemp | Keri Ferster | Creed |
| Victoria Duffy | Conserv. | Kylee Lerch | Conserv. |
| Dalton Mulberger | Conserv. | Kylee Lerch | Sr Prep |
| Victoria Duffy | Sr Prep | | |
Congratulations to Line Mountain High School Student Ahmed Abdou for placing in three events at the Special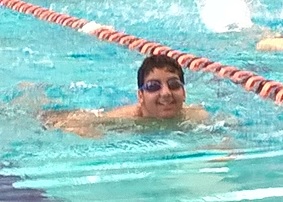 Olympics Swim Meet held at Bucknell University.
Family, Career and Community Leaders of America
The FCCLA held its annual State Leadership Conference at the Eisenhower Hotel and Conference Center in Gettysburg Pa. from March 16th through the 18th. Line Mountain Sophomore Makayla Chubb competed in the Pennsylvania Pastry Arts and Baking contest. Each student was tasked to prepare muffins, a cake, vanilla pastry cream, and chocolate ganache.  The pastry cream, ganache, and cake were to be made into a Boston cream pie within the limit of 2 hours.  Students were judged on safety, sanitation, correct use of equipment, following the recipe, presentation, and taste.  Makayla performed very well, completing her tasks within the 2 hour limit and received a silver medal for her efforts.  Congratulations.
Special Olympics
Congratulations to Line Mountain student Colton Wehry who was a member of the Gold Medal winning Speed Skating Team at the Special Olympics held in Johnstown, PA.  Colton has been participating in skating since 7th grade.
Line Mountain Senior Emily Riehl, far left, a member of the Northumberland County Career and Technical Center's Pro Start
Team, took third place in their inaugural season participating in the National Restaurant Association competition.  Students had to create a restaurant concept and come up with, and manage, each part of the restaurant.  http://www.nraef.org/educators/prostart
Line Mountain High School
187 Line Mountain Road · Herndon, PA  17830
(570) 758-2011 · Fax: (570) 758-1514