Line Mountain High School
Line Mountain Art
A total of 26 student muralists worked on this project beginning in the Fall of 2019.  Students either made direct references to the subject matter of Pop Culture from the late 60's or made current depictions reflecting the Psychedelic Art era and style. Also, the mural is a tribute to the establishment of the school district in 1966. Many interesting references in the mural can be found from Jimmy Hendrix, to the Apollo Space Program, or the VW Van and many more including our throwback version of SpongeBob "FLAREPANTS".
---
Line Mountain Art
Congratulations to seniors Anna Shaffer and Brianna Bendas who were selected to have their artwork join a permanent art exhibition at the Central Susquehanna Intermediate Unit. Each student artist received a $300 check presented to them by Dr. Kurelja of CSIU.
---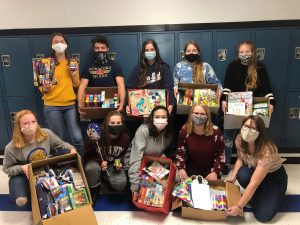 The Line Mountain High School Key Club recently collected items in the Fall of 2020 for the Janet Weis Children's Hospital in Danville.
On December 3rd, the club delivered 7 boxes to the Children's hospital. These boxes contained toys, books, chalk, bubbles, coloring books, activity books, model building, paints, puzzles, wrapping paper, and more!
The Key Club will be collecting items again beginning March 1st.  Thank you again for the support of the Line Mountain School District.
---
Line Mountain FFA

Congratulations to the Line Mountain FFA and advisor Francine Ferster for placing 1st in the Agricultural Educational Exhibit competition at the 2020  Pennsylvania Farm Show with their presentation:

Fighting Cancer: One Plant At A Time 
---
Technology Education
In early 2019, America's Farmers Grow Rural Education, sponsored by the Bayer Fund, partnered with local farmers to nominate rural schools and awarded more than $2.3 million in grants to enhance their science, technology, engineering and math (STEM) programs. Because area farmers answered the call, Grow Rural Education has awarded Line Mountain School District with a $10,000 grant.
The Line Mountain Middle / High School is one of the many schools across the country that has benefited from the Grow Rural Education program. For each grant-winning school, teachers, students and, often times, community members develop plans to create more engaging and innovative STEM programs. Grow Rural Education grants have helped schools purchase an array of STEM-related materials, such as augmented-reality sandboxes, weather-forecasting and robotics equipment. The Line Mountain Technology Education department, led by Mr. Jared Haas and Mr. Joe Kahl, will use the Grow Rural Education funds to create a STEM Design and Innovation Lab that will allow our students to go from design to implementation, all within one classroom. This lab will have the necessary tools and equipment to conduct research, design, rapid prototype and build.  Congratulations and thank you all for the support of the Line Mountain School District.
Outdoor Adventure Class Rafting Trip
Randy Weiser Memorial Classroom
The Line Mountain Randy Weiser Memorial Classroom is beginning to take shape.  This outdoor classroom is being built by faculty and students in honor of long-time Middle School Teacher Mr. Randy Weiser who passed away last school year.  The outdoor classroom will be used by the High School and the Middle School for outdoor learning and leisure during the Spring and Fall months of the school year.
---
The Color Of Flight
From the Daily Item: "Art teacher Wes Wagner and math teacher Charles Keer and their students unveiled 'The Color of Flight' in the hallway between the art and math departments. The wall mural, which depicts an eagle flying out of a hallway, uses leading lines and contrasting shapes to create the illusion of space and dimension.
Anamorphic employs a unique form of perspective in which the art can only be viewed properly from one single vantage point. Away from this point, distortion and warped forms create a uniquely abstracted image. As a person walks down the hall away from that vantage tile, the proportions of the mural becomes oblique and exaggerated. The art changes because it is based on a grid system that has tapering geometric proportions."
To see the entire project, you can visit The Daily Item's webpage by CLICKING HERE
---
Parent/Student Digital Citizenship Videos
Digital citizenship is the appropriate and responsible use of technology. Too often we are seeing students, as well as adults, misusing and abusing technology but not sure what to do. The issue is more than what users don't know, it's what is considered appropriate. The videos provided below will help parents educate themselves as well as their children in the appropriate use of technology and social media.  Click Here for a series of videos to Start Your Positive Digital Footprint.
Line Mountain High School 
187 Line Mountain Road · Herndon, PA 17830 
(570) 758-2011 · Fax: (570) 758-1514